Blue Sky Builders Garage Project Blog: Chicago, Illinois
2014 may be over, but it's not too late to share another 2014 Blue Sky Builders success story.  This project blog features a new garage completed this fall, built in Chicago, Illinois.
After nearly 40 years and a brutal 2014 Chicago winter, our client decided that it was time to look into a replacement for his family's two-car garage before the winter of 2014-15.  After hearing horror stories about a few of the "Mega" builders in the area, our client was referred to us by a friend for whom Blue Sky completed a custom garage a few years ago.
Looking to meet a budget while still getting a high quality product, Blue Sky Builders was able to help the client, completing the project in Fall 2014.
Garage Remodel Details
Garage Style: Hip Garage
Garage Door(s): 16×7 insulated steel overhead door on alley side.  6×7 steel overhead door on yard side.
Garage Windows: Vinyl
Garage Siding Used: Ovation Triple 3" Vinyl Siding
Garage Roof Shingles: IKO Marathon asphalt shingles
Key Desires: Structural stability, security, yard-facing 'party' door,
Garage Before Pictures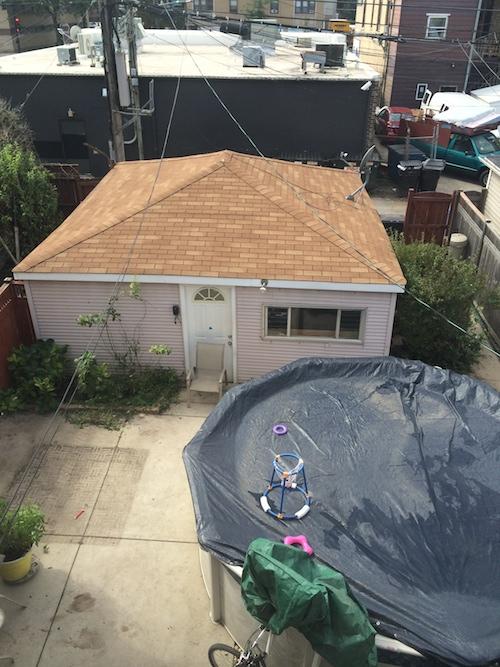 Garage After Pictures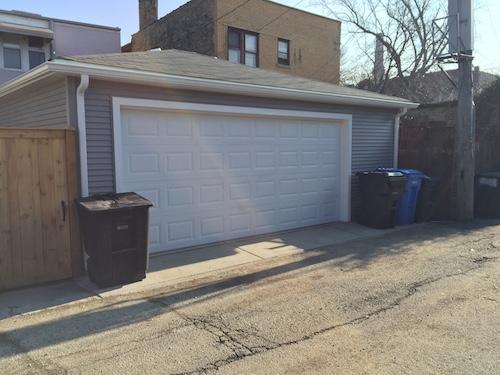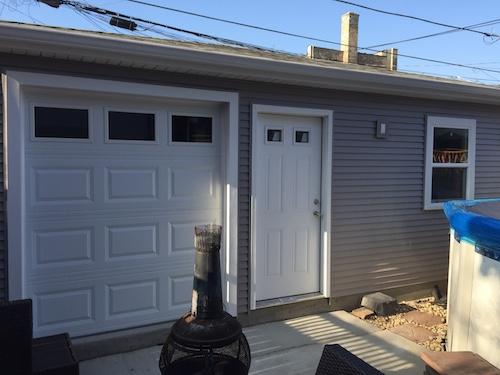 The Story on Yelp
We'd love to share our client's full story provided to Yelp.  Here it is:
"Our two car garage has been there since we bought the home in 1975, it's hard to tell how long it had been there prior but it did require a "rehab" back then to keep the structure sound as it was already slowly decaying.  After a rough winter in 2014 we decided it was time to explore getting a new garage built in its place.  We very much wanted a quality garage and like most are on a budget.  After hearing horror stories from neighbors who had purchased garages built by well known local "mega" garage builders we were not sure exactly where to turn.  Then we found Blue Sky…
A few years back a friend had bought a home and rehabbed it from top to bottom – including the garage.  He went all custom – from top to bottom and it was amazing.  Not something we could afford or have the space for, but I couldn't ignore the quality and inquired about the builder.  Our first consultation with Blue Sky was informative, thorough and they were very transparent when I asked questions about costs and quality.  I knew then it was time to break ground!
Blue Sky came to our home on two occasions to discuss plans and options.  They were unique in that there approach was focused on my everyday needs for a garage vs. just a quick structure and a garage door.  It was detailed and gave me plenty of options when it came to costs.  I also called and emailed many times with questions and always got a prompt response back.  Blue Sky gave me a timeline and schedule which they meticulously stuck with – all the while I got calls and inquires from the project manager to inquire about any questions I had along the way.
I don't usually write testimonials for purchases, but this particular experience really struck me and I do take pride in supporting local business.  My experience with Blue Sky and the building of our garage was excellent.  From start to finish they were focused on finding the right garage for my family, answering my many questions and then quickly executing a flawless demolition and build.  I would highly recommend you take the time to meet with a company that really takes the customer service experience to the next level."
This project, from consultation to completion, took roughly one month to complete.  Looking to be another Blue Sky Success Story? Contact us to be among the first we help in the upcoming construction season!
Want to see more of our project blogs? Visit the links below:
Garage Project Blog – Westmont, IL
Garage Project Blog – Glen Ellyn, IL
Garage Project Blog – Lombard, IL
Garage Project Blog – La Grange, IL