Blue Sky Builders Earns 2017 BBB Complaint Free Award
Blue Sky Builders (BSB) is happy to announce earning the 2017 Better Business Bureau (BBB) Complaint Free Award. To achieve this award, our Downers Grove garage building company was required to receive zero complaints in 2017. This marks the 6th year that Blue Sky Builders has won this award and is a reflection of the work and customer service that Blue Sky Builders prides itself on since 1979. BBB has also accredited Blue Sky Builders with an A+ rating which deems that BSB has excelled in the factors that the Better Business Bureau considers most important to customers.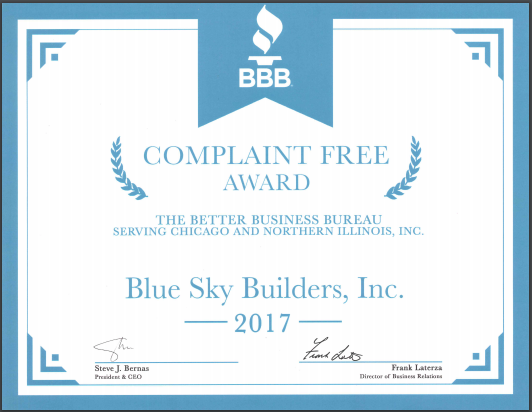 Criteria to Receive an A+ Better Business Bureau Rating
Have no complaints filed with BBB against the business.
Be a business that does not raise marketplace concerns or is believed to operate in violation of the law.
Have reliable information about the length of time in business.
Provide complete information about products and services offered, as well as business ownership.
Provide accurate information about the business.
Honor the commitments of the business to BBB.
Have no licensing or government actions known to BBB.
Have no advertising issues known to BBB, including misuse of the BBB name or marks.
A business with high ratings can become a BBB accredited business, and these ratings greatly affect consumers' opinions about the trustworthiness of the business.
The Importance of Hiring a Licensed Garage Contractor for Your Project
Blue Sky Builders takes pride in encouraging DuPage County area clients to hire licensed garage contractors to assist them with their projects. A licensed garage contractor's credibility is more legitimate than that of an unlicensed contractor. The license that the garage contractor obtains protects both the homeowner and contractor from anything that could go wrong in the garage project.
Even though a licensed contractor may charge a higher price for a project, he is likely to be more trustworthy than an unlicensed contractor. A licensed contractor has gone through extensive training, ensuring that they will be able to meet the needs of a homeowner during their garage project.
Contact Blue Sky Builders Today
When you hire a licensed contractor from Blue Sky Builders, you can rest assured that we will follow the correct building codes and provide you with protection from liability while using high-quality materials and working to meet your needs. We have more than 39 years of experience helping out our DuPage County area clients with their dream garage projects, and we are happy to answer any of your garage questions. To get started on your garage project, please contact us at 630-852-8485 today. To check out some of our work, please visit our gallery.